We are so excited to introduce to you this wonderful new product! Suitable for both dogs and cats, Answer's Fermented Fish Stock adds a power punch of unique health benefits when added to your pet's feeding routine. From joint problems to kidney disease, there are a great number of problems for which this fish stock provides solutions!
Joint Support– Fermented fish stock contains glycosaminoglycans, which are a major component of glucosamine, chondroitin, hyaluronic acid, and joint cartilage.
Thyroid Support- Rich in iodine and other thyroid supportive nutrients.
Kidney Support- Fermented fish stock is essential for pets with kidney disease who are put on a low protein diet, as it reduces the body's need for protein by up to 50%. Rich in arginine, it helps to metabolize protein waste and reduces blood pressure, which puts less strain on the kidneys.
Digestive Support– Gelatin is a naturally occurring product in fermented fish stock. It lines the digestive system and helps resolve leaky gut syndrome and colitis, while also providing a barrier against bad bacteria. Fermented fish stock is also high in Glycine, which helps regulate the making of bile salts and secretion of gastric juices, in addition to aiding in liver detox. Glycine is also an anti-inflammatory amino acid. It produces a calming effect, aids in sleep, and can help protect against seizures as well as brain damage.
Skin/Coat Support- Ground fermented sardines provide a dense source of all Omega fatty acids, which are key for optimal skin and coat health.
Dental Support- Fish stock helps remineralize tooth enamel by absorbing minerals into your pet's saliva. The same glycosaminoglycans that aid in joint health also assist in the repair of ligaments and the tightening of teeth.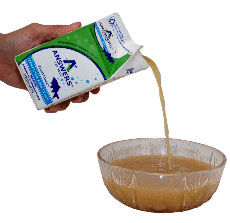 Diabetic Support- Ground fermented sardines naturally stimulate the secretion of insulin. They are also rich in magnesium, which increases insulin sensitivity.
Immune Support- The minerals provided naturally in fermented fish stock are more readily absorbed, and they trigger metabolic enzymes which boost healing functions. Answer's Fermented Fish Stock is an amazing way to regulate the immune system.
Seizure Relief- As well as aiding in digestion, the gelatin found in fermented fish stock has anti-inflammatory and brain protecting functions. Specific glycosaminoglycans also enhance the brain's ability to eliminate heavy metals and other toxins.