Winter weather in the Midwest always means ice and snow. Prepare your home with Safe Paw Ice Melter! Most ice melting products are composed primarily of salts, which can be dangerous for pets. It can be an irritant on paws and can be harmful when ingested.
Safe Paw is a salt free ice melter, guaranteed to be 100% safe for pets and children!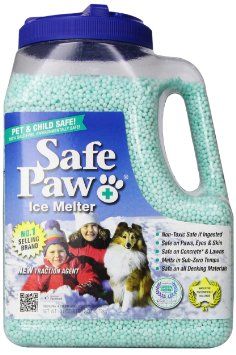 Won't damage surfaces or flooring
Non-toxic
Traction agent prevents slips and falls
Safe on plants
Environmentally safe!
Best of all, Safe Paw REALLY works–it's what we use here at Dog Day Afternoon! So come on in and pick yours up today!