Belleville Dog Grooming
Grooming and bathing are essential to your pet's health and happiness! The experienced pet stylists at Dog Day Afternoon are here to ensure a professional, quality groom where your dog's unique coat and personality are taken into consideration. Making safety and comfort a priority, most of our dogs are hand dried, while others are relaxing in their kennels with our heatless fresh air dryers. The products we use are all natural, free of harsh chemicals and detergents, and are also available for purchase.
Our standard package includes a bath, ear cleaning, brush and nail trim. Other treatments like dental care, and de-shedding are also available upon request. Please allow three to four hours for us to finish your dog, true beauty takes time!
Meet our groomers here, and call to make an appointment today!

Teeth Brushing
Protect against bad breath, tooth loss, and gum disease with regular teeth cleaning for a healthy smile.

Bath & Brush
Our bath service includes shampoo matched for your pets' coat type, leave in conditioner, brush out, nail trimming and filing, and ear cleansing.

Ear Cleaning
A dog's ears are delicate and vulnerable to infection, excessive wax buildup, and ear mites. Cleaning your pet's ears reduces build-up to help hinder infections and reduce the smell.

Face Trim
Several pooches need a haircut from around their face. Our groomer will be able to help you identify the perfect style for your dog.

Full-Service Grooming
Your pet is going to be given a bath, clipped, combed, and beautiful head to toe.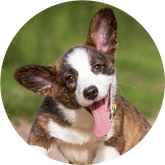 Haircut
We provide breed-specific haircuts. Cuts feature shampoo, dry, and hair trimmed on their head, paws, and bum.

Nail Trim
We cut nails to a prudent length, just short of the toenail quick. Nail trimming prevents painful nail cracking or nails breaking.

Sanitary Trim
For long hair doggies, sanitary hair cutting may be needed to cut long fur from around the bum.
Come visit our pet supply store in Belleville, IL specializing in quality food, treats, and supplies for cats and dogs.